Spectrum Series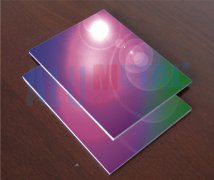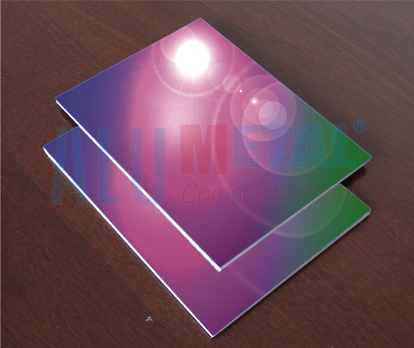 Spectrum
Introduction
Spectrum ACP inspirited by themes from nature such as iridescent colors. The surface coated with a special high gloss painting, bring us a smooth and colorful feeling. Interaction between light and material, reflection, diffraction and absorption are the secrets of color effects in nature. Spectrum ACP shows fantasy decorative effects, especially used in public places for interior and exterior decoration, commercial chains, car 4s shop, and exhibition advertising and so on.
Feature
1.Optical:Accord with the optical elements, the Chameleon ACP use the light's reflection, diffraction, refraction and absorption. These color effects have fascinated motivated, triggered emotions and had an effect on men's feeling since time immemorial.
2.Traditional Techniques:Alumetal aluminum composite panel is composed of non-toxic and low density polyethylene core between two sheets of aluminum, with the technology of continuous compositing. The adhesive film keeps the color well.
3.Coating Performance:Outdoor aluminum plastic composite panel is coated with fluorocarbon resin (PVDF) on the surface (Pearlescent mica PVDF>70%). The color has two main systems, Metal color and no-metal color. As for indoor aluminum plastic composite panel, PE coating is up to the usage requirement.
4. Color Arrangement:Chameleon ACP is based on the same principle as natural color effects. Pigmentation effects add new dimensions to Chameleon ACP with their luster, depth and color gradient.
5.Sensory Theme:Depending on the type of pigment and viewpoint, different, enchanting color effects with highlights and iridescent color gradients appear.
6.Design Exertion:The Chameleon ACP has series of glossy and shape to meet the designer great originality of design, achieves perfect results.
Spectrum Structure